Do you know what your site needs to make people come back to it? Things like aesthetics, navigation, and interactions play a significantly important role. Designers must come up with new methods to combine their creative ideas with the interests of users in order to provide them with flawless experiences and using one of the best website analytics tools is a great solution.
But how to do it? 
Every successful company relies on its capacity to comprehend and make use of the data offered by its clients, opponents, and collaborators. With the help of web analytics, you can accurately assess the success of your marketing initiatives, identify and fix any issues with your online services, and develop customer profiles to increase the effectiveness of your advertising and sales activities.
When applying website analytics, you may also be interested in usability testing. For example, usability testing can provide valuable insights into the specific pain points and difficulties users encounter while using a website, while website analytics can help to track the impact of any changes made based on these insights. By combining these tools, it is possible to create a more intuitive, user-friendly, and enjoyable website experience for users.
Why are website analytics tools important?
Website analytics tools are important because they provide valuable insights into how visitors interact with a website. These tools track and measure various aspects of website traffic, including the number of visitors, the pages they visit, how long they stay on the site, and where they came from.
Having this information can be incredibly valuable for a variety of reasons, including:
Understanding user behavior: By analyzing data from website analytics tools, it is possible to gain a better understanding of how users interact with a website. This can help identify areas of the site that are popular and those that are not, as well as any pain points or difficulties users may encounter while navigating the site.
Identifying opportunities for improvement: By analyzing data from website analytics tools, it is possible to identify opportunities for improving the user experience of a website. This can involve making changes to the layout or design of the site, optimizing content for search engines, or improving the overall functionality of the site.
Measuring the effectiveness of marketing efforts: Website analytics tools can help to measure the effectiveness of marketing efforts, such as email campaigns or social media posts. For example, you can also make a custom QR code that can be used to generate more follows on social media by sharing the QR code with potential customers. By tracking the number of visitors and conversions from these efforts, it is possible to determine which marketing strategies are most successful and allocate resources accordingly.
Setting and tracking goals: Website analytics tools allow you to set and track specific goals for your website, such as increasing the number of conversions or improving the average time spent on the site. By regularly reviewing data from these tools, it is possible to measure the progress towards these goals and identify areas for improvement.
We have listed the 10 best website analytics tools of 2023 and their advantages and disadvantages, according to which you will be able to choose the best option for you.
10 Best Website Analytics Tools:
1. UXtweak 
UXtweak has all of the features you'll need to build the perfect website that visitors will want to return to. It perfectly visualizes customer frustration to better understand their issues in the form of pixel-perfect session replays, heatmaps and many other powerful analytics tools. Track user's clicks, scrolls, mouse moves and discover new ways to improve your website.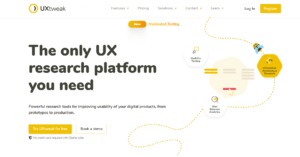 Tools:
Unique tools also include the Recruitment widget, a built-in reward feature to motivate respondents and the Respondent Pool. Not only that, there is also Think-aloud protocol to collect audio feedback using respondents' microphones, and Crowd Feedback, which allows users to submit and vote for other people's ideas to improve the website.
Pros
Easy to use even for a complete beginner

Unlimited studies – with UXtweak you can test as much as you want

Free plan for smaller projects or you can customize a plan to fit your demands

It offers advanced analytics that are easy to read
Cons
Supports only 10 languages
Pricing:
For smaller projects, UXtweak offers a free subscription for unlimited time. You may also select a pro plan for only 80€ per month or customize a plan to fit your demands. 
2. Crazy Egg
Crazy Egg is a click-based software for usability testing and website optimization.  It allows you to create heat maps and track your visitors' every click on your website based on where they are clicking. It uses Snapshots and Recordings to assist you to understand your consumers' journey on your website. Crazy Egg generates visual reports and session records to help you better understand how users engage with your product.
Tools:
Snapshot reporting 

Heatmaps and scroll maps 

Session recordings 

Demo dashboard 
Pros
Easy and fast set up

30-day trials on all its plans

Allows for the analysis of ad campaign traffic.

30-day money back guarantee 
Cons
Pricing:
Its basic plan starts at $29/month.
3. Loop11
Loop 11 is a usability testing software that enables non-moderated remote usability testing on any device. Data is presented in the form of reports that include task duration, path analysis, and other information. 
Tools:
Testing of live websites or prototypes

Heat maps and clickstream analysis.

Benchmarking 
Pros
14-day trial uses for all its plans

Supports desktop, mobile, and tablet devices.
Cons
More expensive plans compared to others

Users need to bring their own participants

In order to participate, people need to download the Loop11 app 
Pricing:
Starts at $179/month for the Rapid Insights plan.
4.Lookback
Lookback is another usability testing platform. It allows you to do moderated or unmoderated exams, as well as in-person testing in a nearby lab.
Tools
Lookback –

a testing platform that allows you to interview people. It enables you to work with clients and team members on the review, testing, and taking notes. Lookback may also be used to capture in-person testing, such as those conducted by designers or in-house testers. 

SelfTest, on the other hand, is an unmoderated testing tool that lets testers to test your design, app, or website in a variety of ways.
Pros
Offers 60-day trials on all its plans, 

Works with Native Apps

The ability to date and take notes at certain points during test recordings
Cons
Starts with $25/month annually, i.e., on the pricier side
5.UserZoom
UserZoom is a platform for conducting user experience research and testing at the enterprise level. You may use it to test prototypes and websites, keep track of remote testers' interactions, do market research, and more. It allows you to customize your plan with a variety of additional features based on your needs.
Tools:
Usability testing

Interviews

Click Testing

Participant Recruitment
Pros
A comprehensive dashboard with analytics and reporting is available.
Cons.
No free trial plans 

Not recommended for individuals or small businesses.
6.UserTesting
UserTesting is a usability testing service that uses a panel of users. Insight Core, Product Insight, and Marketing Insight are the three main products. These three items, when used together, may assist with almost any sort of research, including development, market, and user experience. The platform has several tools, such as Live Conversations, which allow for the real-time back-and-forth with users.
Other tools:
Schedule 1:1 interviews with testers

Highlight reel of noteworthy video clips

Online/offline customer experiences
Pros
Allows you to talk to your testers while they're using your site.
Cons
It requires too much data for the free trial.
7.Userlytics
Userlytics is a platform for user testing. It will provide you with authentic feedback on your website, application, or prototype. It will assist you in improving the Information Architecture of your websites, mobile/desktop apps, and prototypes. Userlytics allows users to choose not only the criteria and qualities they desire from participants, but also the order in which they want them to appear. It also allows users to take it a step further by allowing them to create screening questions that automatically exclude them from the research.
Tools
Live Conversations

Multichannel User Experience

Automated Transcription

System Usability Scale,
Pros
Allows for live or moderated conversations, as well as sophisticated video capabilities such as annotations and transcriptions.
Cons
Not all plans have access to all features.

Pricing per participant
Pricing:
Starts with $49 per participant.
8.Trymata
Trymata is another noteworthy example of remote usability testing tools. It allows users to choose whether or not to utilize their own participant database. The System Usability Scale Questionnaire may be used to track mouse movements and keystrokes. Basic functions, sophisticated filtering, quantitative data, and collaborative analysis are all available. You may view the results in video format by remotely watching the testers interact with your app or website.
Tools:
Usability Scale Questionnaire that track mouse movements and keystrokes

Sophisticated filtering, quantitative data, and collaborative analysis 

The results in video format that are remotely watching the testers interact with your app or website
Pros
All of its plans come with a 14-day trial period.

Tester encounters are recorded and can be viewed later or as needed.
Cons
No free plan.

There is no support for real-time interviews with testers.

Limited team members
Pricing:
Team plan starts with $333/month.
9.HotJar
Hotjar is a single solution that integrates several website analytics tools and features with a range of feedback options. Its most important feature is heatmaps. Hotjar also collects important input from users through polls, surveys, and other means. Their solutions work together to enable you conduct usability testing on your app or website while also delivering actionable behavior insights. It can keep track of clicks, movements, and scrolls and display them. Replaying visitor records allows you to view the actual behavior of users.
Tools:
Heatmaps

Visitor recordings

Conversion funnels

Feedback polls

Incoming feedback
Pros
Attributes and triggers that provide effective targeting.

Each feature has an unlimited number of responses..

does not limit the number of people on your team that may access the platform

Free plan
Cons
There is no provision for remote usability testing.
Pricing:
$39/month for Plus plan.
10.Optimizely
Optimizely is another well-known usability testing system on the market. A/B testing is its most well-known function. The ease with which new studies may be created is one of the most appealing features of this user testing platform. Users can put everything up immediately on their dashboard. It enables studies to be narrowed down to participants from certain geographic regions.
Tools:
A/B testing

Tracking of clicks and conversations

Multivariate Testing
Pros
For designers, Optimizely provides a visual editor, as well as a number of extensions, APIs, and code choices.

It also has a variety of tools for managing the workflow of many teams within the application, such as an idea backlog, comments, and even a grading system for ideas.

Allows for rapid and easy modification of pictures, text, and colors 

Additional user accounts may be simply created, as well as project organization.
Cons
Ready to make your website better? 
We are here to make it possible for you! We hope this website analytics tools comparison was useful and you are now ready to improve your website. Make it a place where your users will be pleased to return by creating a free account or  book a demo call, so you are all set for the year 2023.