In one of our previous blogs, we discussed why, when, and how to run usability testing. Let's be honest, the success of testing depends on respondents, more precisely on your choice of respondents. When you want to conduct a usability test, you have to find suitable respondents for your specific project. Learn some of our best practices in UX research and find the best testers with the help of this article. 
Do you want to sound like a pro when discussing UX research with your colleagues? Here is a short dictionary of words mentioned in the article:
Sample – a representative group from a larger set or group
Sample size – number of respondents in the test
Target group – individuals with the same/similar interests, needs
Screening – a method for finding the most suitable respondents via questions in the questionnaire
5 tips for recruiting the best respondents for your research
1. Think about your consumers: who is your audience?
The first rule is elementary: respondents should represent your target group. Go back to basics and ask yourself: Who are your users? Whom do you want to target? Your testers can be your regular customers or people who are the most likely to use your product. Based on the data you have, you should be able to construct who are the optimal users of your product. 
Are there various groups who are using your product? Try conducting group testing. Split users into particular groups that would share common properties or characteristics. This way, you will get the most out of the test. If you are a data nerd, you have butterflies in your stomach. 
2. Specify your target group
Sometimes you need respondents who have it all – meaning all kinds of motivations, habits, behaviors. But sometimes you need respondents who will meet specific requirements: for instance, individuals who are more likely to order stuff on a mobile phone rather than a computer or people who use specific apps/software daily. In other words, you need to find out what your criteria for respondents are. The choice of criteria depends on the specific requirements of your product or study. 
There comes the question – How many criteria are enough? Or isn't it too much? Having too many criteria that a participant should meet can cause the underrepresentation of your consumers. There is a possibility that you will lose their perspective on your product. But, fewer criteria can lead to losing important information in a pile of garbage. As you can see, testing can be overwhelming. 
Try not to get lost and focus on things that matter. Focus on your target group and primary consumers. 
This does not mean that you should ignore unique cases. Think about them, incorporate them into the testing but bear in mind that they are uncommon.
3. Use the power of screeners to find the right respondents 
A great tool for selecting the most useful testers is to use a screener (screening questions). Write a short questionnaire that can determine whether testers are suitable. Sometimes one question is enough. Are they meeting your criteria? Congratulations. You found a perfect tester. 
Imagine that you need individuals who are using internet banking regularly. You can ask questions such as: how often do you use internet banking (every day, once a week, once a month, etc.), where do you use it (mobile, computer, tablet), what are the reasons you use online banking (shopping, regular payment, …). Be aware that long questionnaires can scare away your respondents. Screeners are not an online dating platform. A single question can say whether you have found a suitable respondent or not.
You can also ask questions about the occupation, age, location, education. Don't forget to exclude those who are not representing your intended target group (people under 18, people who are in the field..). Using screeners is a great way to filter your testers. 
4. How to reach and contact respondents for user testing?
We can list many possibilities of how to get in touch with your respondents. Many professional agencies will do the whole process for you, from finding the right participants to data analysis. This way, you can save some time and energy, but be aware of the costs. 
Some budget-friendly options for recruiting are to use social media, newsletters, and direct emails. To attract respondents and motivate them to take part, you can offer them exciting rewards, such as a chance to win in a competition or discount vouchers. Amazon gift cards are a go-to option for a lot of recruiters. Recruitment on your own takes some time and effort (even creativity), but it is less costly than hiring a professional agency.
Limited possibilities for recruiting participants and a complicated process with a steep learning curve made us think if there isn't an easier option. To simplify the recruitment process, we developed an exciting feature called the Recruiting Widget. Remember how we were talking about real users? The Recruiter widget helps you to recruit your real users without you having to do anything. It turns website visitors into respondents.
You can easily apply the Recruiting Widget on your website or any other website you have access to. It works similarly to online chats or pop-ups, which pop up on visitors and will show them your prepared message and a link to your study allowing, you to recruit them as respondents. All they have to do is click a link. Yes, that is it. You don't have to search and pay your testers or ask them for an email to send them a test. You can test real users of your website instantly directly on it.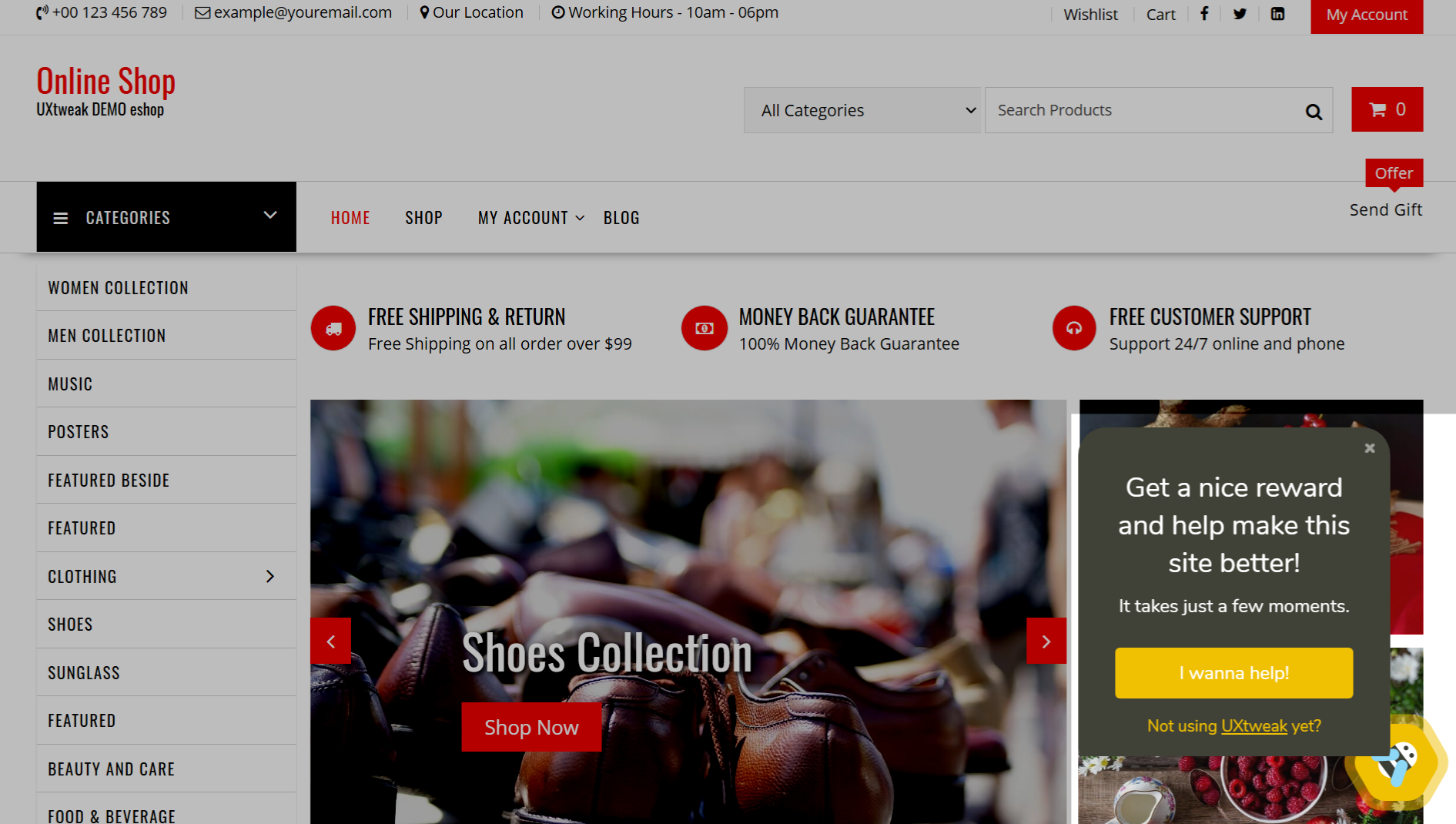 The recruiter has various setting options. The test can appear on the screen after the tester clicked through 3 pages or scrolled halfway through the landing page, or after some time. This will help you to recruit only the respondents that are invested in your website.
Moreover, the implementation of the recruiter widget is simple. You insert script into the code of the website, for instance via Google Tag Manager. That's it, 3 clicks, and you are set. Where can you get better testers than the ones that use your website?
You can read Using UXtweak Recruiter Widget to get more information.
Another great way to get the desired respondents for your studies is by recruiting through the User Panel. UXtweak's User Panel provides you with 60M+ testers available on-demand. It is the ultimate solution for anyone who wants to get some high-quality respondents and has no time to waste. The great advantage of this method is its demographic diversity. UXtweak allows you to choose what age or gender you want your respondents to be, their location, education or household earnings, and many more criteria. 
Recruiting from a UXtweak's User Panel is not only convenient but also budget-friendly. It costs as low as 4$/15 minutes for a tester.
Learn how to set up and recruit testers from UXtweak's User Panel.
5. Don't test your colleagues or family members
Testing your colleagues or family members is not the best idea. "But they are nice and smart people who want to help me" – we know they are, but that does not make them good respondents for your testing. 
Human beings are not 100% rational (far from it actually). They can reflect their ways on how they think about the product. Imagine that your colleague wants to implement a certain item, for example, a pop-up to explain the process of adding items to the shopping list. A test is a great way to find out whether visitors have problems with adding things to their shopping list. Thus, uncovering if the pop-up is necessary or will only annoy your users. Your colleague could get emotional if you, but now he knows that the shopping list is not causing problems to visitors. 
Simply said, your colleagues, family members, and yourself – are not objective. They are biased. Thus, the needs, ideas, and general overview of the product can be completely different in professionals versus users. This can cause the needs of the target group (users) to be ignored.
How many respondents are enough?
When discussing user testing, there is always one question: How many respondents do I need? The answer is not clear.
The Nielsen Norman Group – the UX research leader, claims that five respondents will do the job. According to them adding more respondents will provide you with very little extra information. Yet, if you focus on statistically significant results of certain metrics, we recommend going for at least 20 participants.
Here you can see the curve showing the proportion of usability problems discovered when testing with a number of users. Image source: Why You Only Need to Test with 5 Users.
Let's look at it from this perspective. You want to find out whether people can find a contact form. It is not important whether 72% or 86% of your testers could not find a contact form. The problem is there, and you should find a solution. It is not about how many respondents you get but how many tests you are going to run.
What kind of users do you want to recruit for Usability Testing?
A great choice of participants is the key element for effective testing. They should reflect the needs of your target group. Even before the testing phase, you should think about the criteria for testers. Use a screener and questionnaires. They can help you to find the most suitable respondents. The key is to test your target group and not just anyone.
Use a screener and questionnaires. They can help you to find the most suitable respondents. The key is to test your target group and not just anyone. If you are looking for more information, read Recruit your respondents guide.